Recent texts from HO number two now self-archived, here and there and as comic intervention in contrarian directions at Academia.edu and AAAAARG:
"What can a phrase such as 'natural course' mean anymore in a time of such intense production?", Radio Art Zone, Sarah WASHINGTON, ed (Berlin: Hatje Cantz, 2023) ISBN 978-3-7757-5515-3.
with Florian CRAMER, "A Near-sighted Falling into Technology — Through the Looking Glass of Art Practice as Human Self-Experimentation' Accidents and Coincidence", Technological Accidents, Accidental Technologies, Joke BROUWER and Sjoerd van TUINEN, eds (Rotterdam: V2_ Publishing, 2023) 60-80, ISBN 978-90-828935-8-8.
"Getting a Move On: A Logistics of Thought towards Print and Publics", Publishing as Method, LIM Kyung yong and Helen Jungyeon KU, eds (Seoul: Mediabus, 2023) ISBN 979-11-90434-43-0 03600.
with Bart WISSINK, "一個記憶遭到否決,未來尚不存在的城市 A City of Memory Denied and Futures Unwritten", 《午夜太陽與貓頭鷹 — 2021亞洲藝術雙年展讀本》 Midnight Sun and the Owl: The Reader of the 2021 Asian Art Biennial,

蔡昭儀 TSAI Chou-Yi and Thanavi CHOTPRADIT, eds

(Taipei:

National Taiwan Museum of Fine Arts

, 2022) ISBN

978-986-532-627-2

.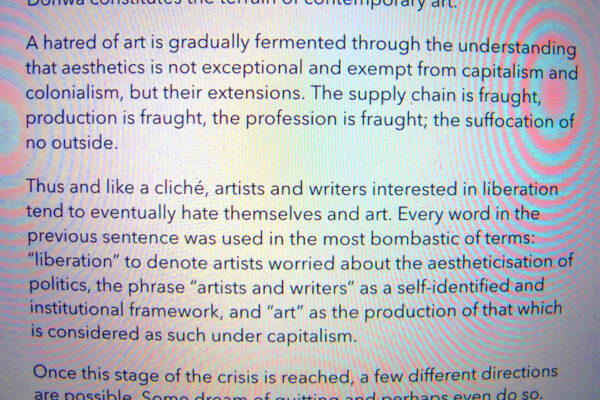 ___
* A response to @jaime.BOT3 for sharing this, the labour of which matches the irony of reading an art magazine to ridicule oneself about the possibilities of quitting.